FANTOMATIK ORCHESTRA FESTIVAL DES FANFARES MONTPELLIER 2007
Presentations des fanfares du festival des fanfares de Montpellier
29/30 juin 2007
L'Arc en Ciel des Faubourgs 12 eme edition
FANTOMATIK ORCHESTRA
FOLLONICA-LIVORNO - ITALIE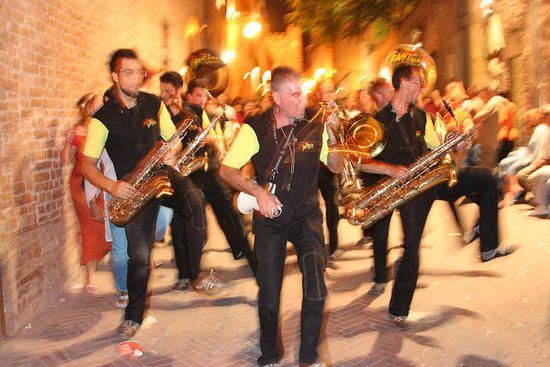 Sur la tranquile côte Ouest de la Toscane, est née une nouvelle manière folle de jouer du funky style.
http://www.fantomatikorchestra.com/
The driving forces of the new project by Stefano Scalzi are the great friendship among the members of the band and the pleasure of playing good music, which together create that special feeling that arises only among those who have known each other for a lifetime. The basic idea was that of creating a group of musicians with a prevailing modern background (jazz, funky, latin, ethnic, etc.), which could perform an international and intergenerational repertory, suitable for a wide audience, with energy and vitality, using only wind and percussion instruments, voices and guitar. After three years and more than 120 concerts, the Fantomatik Orchestra has developed an original identity, making it different from both the traditional citizens' band and the classic American street band or marching band. The careful arrangements, the repertory (funky, soul, jazz, rock-blues, ethno-pop), the characteristic instrumental formation, the energy and vitality of the musicians come together to produce a unique musical show. The Fantomatik Orchestra can in fact perform in any setting without the need for an audio system or technical support: they can move freely continuously playing and involving the audience not only in listening but also in dancing and movement. The Fantomatik Orchestra is mainly formed by Tuscan musicians, who have been working for many years now in various productions of pop, jazz, and theatrical music; many of them have also played with different international latin, jazz, rock, and pop bands.
discographie:
"PIRATI" (october 2004) - special guests: Nico Gori, Aldevis Tibaldi e Raffaele Cherubino
"ZEROWATT"(2001) - special guests: Luca Marianini e Dario Cecchini